Date: Saturday December 01, 2018
Time: 07:00
Location:
QIC: varones@yahoo.com
Pax:
Denari
Homer
Lavender
Noonan
Preblast:
varones@yahoo.com
BackBlast: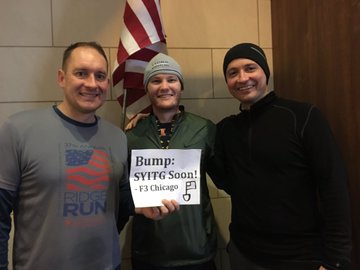 Sans Lavendar who had to bolt to brainstorm his wedding registry
A torrential downpour of flesh eating acid rain. What better way to finally eradicate the PAX who would post on Dec. 1 (Denari, Lavendar, Noonan and Homer taking the Q). After wiring money to the United Nations and being assured its weather controlling machine would work over Chicago at the designated time, 7am rolls around and…no rain. Another reason to abolish the U.N.
1.    60 Second Soapbox
2.    Ass Kicker – 50
3.    Lunges – clear the bench
4.    Frankenstein – clear the bench
5.    Mosey
6.    Rocky Balboas – 100
7.    Ascending/Descending Sumo Squats – 10
8.    Motivator – 7
9.    Burpee/Side Straddle Hop/Squat/Plank Partner Relay
10. Ape/Bear/Crab/Duck movement
11. Abe Vigoda – 20
12. Mosey
13. Old Faithful – to fail
14. Smurf Jack – 15
15. Seal Clap – 20
16. Old Faithful Face-off
17. Jack Web – to 64
18. Flutter Kick – 20
19. Carolina Dry Dock – 10
20. Freddy Mercury – 20
21. Dying Cockroach – 15
22. Plank till Fail
The 60 Second Soapbox was about not waiting to do the right thing and leading by example. Watch this: https://www.youtube.com/watch?v=m4e2_A_Srpk
Welcome back to the fold Denari after his first – but not last – fatherhood hiatus.
Congrats to Lavendar who slipped the ring for the cause of lifelong matrimony and caffeination.
Prayers to Bump to return in glory to the beatdowns.
At Coffeteria, came out and revealed he speaks fluent Polish and is offspring of off-the-boat Poles.
The bat signal goes out to The Rabbi and the Perp—was it something we said?!
With 30 days till 2018 is in the rearview mirror, all PAX are called to reflect on how they lead by example and be better men in the new year.